Salwar suits have a special place in every woman's wardrobe. Different patterns, different colours and different styles everything is available in their wardrobe. The attire is favourable for each and every type of occasion due to its comfort level and proper management.
They are found in a variety of patterns and designs and have a list of colours that can be chosen as per one's choice and preference. Not only colours and designs you also get options regarding prints. Block prints, digital prints, geometrical prints and some traditional prints are some of the most trending prints nowadays.
You need to keep some amazing and stylish salwar suits so that you can select the most favourable one according to the type of occasion or events that you are going to attend. Let's check out some stylish salwar kameez that you should add to your wardrobe.
8 Salwar Kameez Styles to Add to Your Wardrobe
1. Anarkali Salwar Suit
This is the most admired type of salwar suit that is found in every woman's wardrobe. They may be short, long or floor-length detailed with some alluring prints and embroidery. The short-printed ones can be paired with a palazzo salwar or a cigarette pant. A long kurti and a matching legging with a beautiful dupatta make an awesome pair. Floor-length Anarkali salwar suits with some adoring embellishments are a perfect pick for parties or other special occasions.
2. Patiala Salwar Suit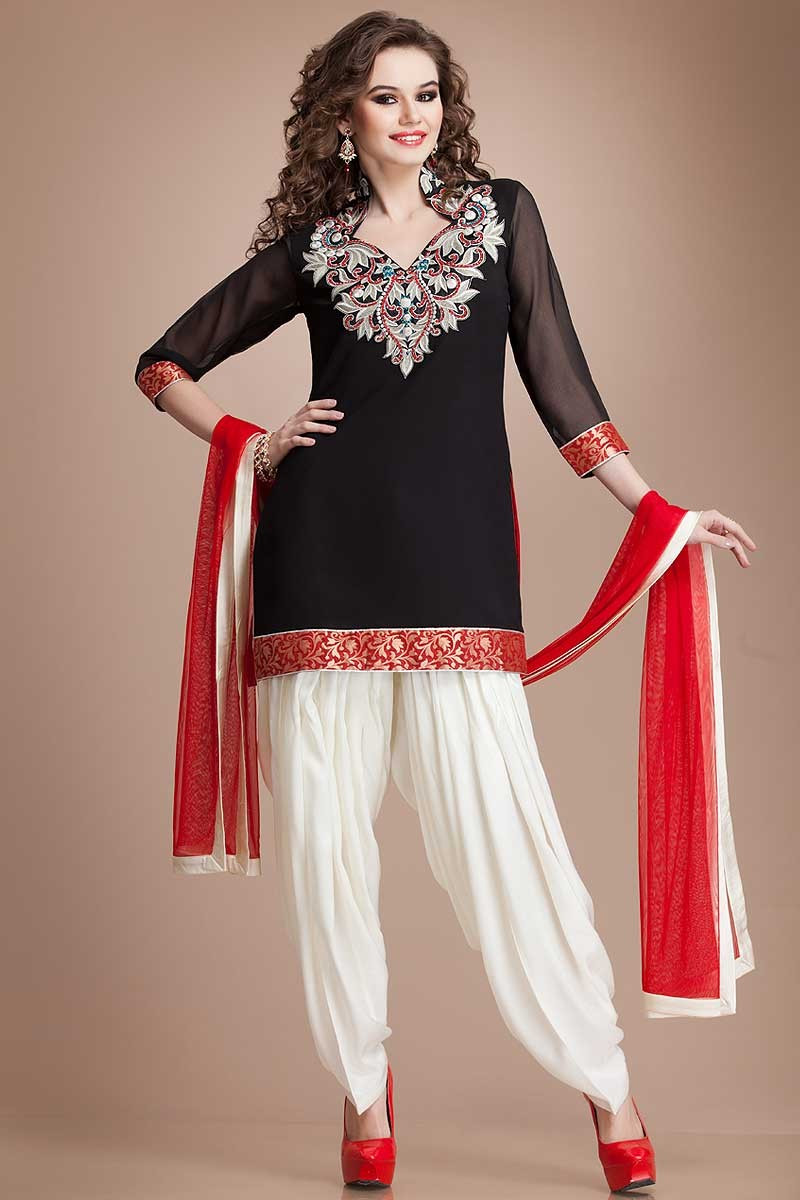 A baggy salwar having several pleats and a nice flare paired with a short straight kameez and an adoring dupatta will give you a perfect traditional look. If you are willing to wear something ethnic at the kitty party then a printed Punjabi salwar suit can be a proper pick. For festivals or other events, you can choose to wear a plain salwar with a knee-length kurti having some details at the neck and sleeves and a ravishing dupatta.
3. Straight Salwar Suit
A long straight kurti paired with some fashionable and stylish salwars can make a drastic pair. The kurti having side slits with a simple neck design and long sleeves give an elegant look to the attire.
The neck can be detailed with some alluring embroidery work with the help of stones and pearls or an adoring zari work. You can select this attire for a classy and rich look. Wear them at parties and events and be the limelight there. Add some accessories to complete the entire look.   
4. Sharara Salwar Suit
The one that is immensely popular since the Mughal era is a beautiful sharara salwar suit. It has a salwar that is flared from knee to ankle having some embellishments at the flare making it look super stunning.
It is paired with a short kameez and a beautiful dupatta that can be net detailed with beautiful laces and diamonds, giving an effective look to the whole attire. It is the best pick for party or wedding functions as it has the most amazing details.
5. Dhoti style Salwar Suit
A flared and pleated dhoti having a flowy appeal at the thighs can be paired with a short kurti having side slits and simple neck design. If you love traditional looks then this attire can be your perfect pick.
The outfit looks awesome on apple-shaped or pear-shaped bodies giving a ravishing look to the wearer. They are very trending nowadays due to their comfort level and loose pattern. The attire keeps you cool and fresh on a hot and bright day.
6. Skirt style Salwar Suit
For something different and unique you can try a skirt style salwar suit that has some beautiful embellishments and borders at the outfit giving it an amazing look.
The skirt is detailed with embroidery and laces at the bottom so that you get an effective look. The skirt is paired with a knee-length kurti that may have a collar neckline or any classical neck design with simple or any stylish sleeve pattern making a fabulous salwar suit.
7. Pant style Salwar Suit
A narrow or cigarette pant is very comfortable to wear. If you are bored with churidar salwar and its wrinkles at the ankle then this narrow pant can give you the same satisfaction with a proper feel.
The pants can be plain or may have some beautiful embroidery work at the ankle that makes a perfect match with the kurti. A long kurti paired with a pant gives an admiring party wear look to the wearer. Simple makeup and perfect hairdo makes it all. you can also add cotton Anarkali suits with this collection. if you need cotton Anarkali suits wholesale then you can get online.
8. Slit Salwar Suit
Girls love to wear something trending and modern and for that a long slit salwar suit is always a perfect choice. Fitted to the upper body and flared from the waist to bottom gives a stunning and stylish look to the wearer.
It can be paired with narrow pants or a layered sharara and gives an eye-catchy look to the outfit. A georgette slit salwar suit with some shimmery embroidery work and a beautiful dupatta makes a perfect reception wear attire.
The fabric and design must be selected as per the type of event that you are going to attend. For small gatherings and kitty parties a beautifully printed salwar kameez is the best option. The type of motifs and designs that are printed on the outfit makes a lot of difference.
For an elegant look always try to choose small motifs and intricate designs. PAir some jewellery like rings, earrings, necklace, bracelet or bangles and a pair of anklets so that you can complete your diva look and style yourself in a gorgeous way. 
If you are in search of some amazing and ravishing salwar suits then you can check them out on online stores. A range of wholesale salwar kameez can be found there with a variety of options in colours as well as patterns. You can find the printed ones, embroidered ones and plain ones with any pattern that you like here. Just pick the desired one and get ready for the event.